December 06, 2019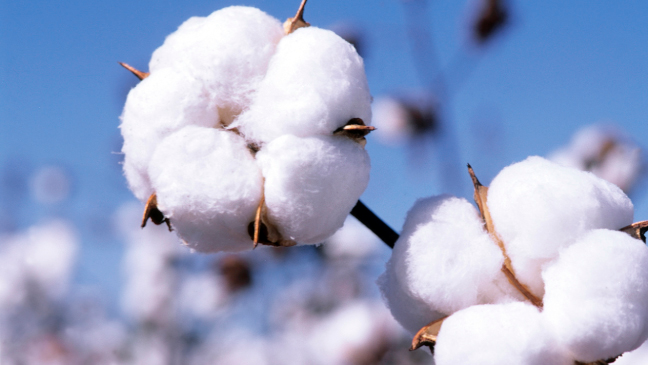 Cotton slips after export sales report.
ICE cotton futures settled lower on Thursday, hurt by uninspiring export sales data from the US Department of Agriculture (USDA),
while lack of clarity in trade talks between the United States and China kept investors on edge.
Cotton contracts for March settled down 0.19 cent, or 0.3%, at 64.51 cents per lb. It traded within a range of 64.41 and 65.21 cents a lb.
"The USDA reports are pretty friendly the last couple of months, so maybe some optimism there that they are going to cut US yields again, but other than that exports this morning weren't great," said John Payne, senior broker at Daniels trading.
The USDA in its weekly export-sales report showed net sales of 163,700 running bales (RB) for the 2019/20 marketing year, down 42% from the previous week and 36% from the prior four-week average, for the period ended Nov. 28.
"The market is looking at tomorrow's expiration for the December market and waiting for Tuesday's supply demand report," said Keith Brown, principal at cotton brokers Keith Brown and Co in Moultrie, Georgia.
"Falling production and hope that there could be a trade deal is keeping the market buoyed up here."
The USDA's monthly World Agriculture Supply and Demand Estimates (WASDE) report is due on Dec. 10.
On the trade front, US Treasury Secretary Steven Mnuchin said that trade talks with China are on track, with deputy negotiators from both countries holding a call on Thursday as they actively worked toward a deal.
This comes after US President Donald Trump said on Wednesday that trade talks with China were going "very well," sounding more positive than on Tuesday when he said a trade deal might have to wait until after the 2020 US presidential election.
Total futures market volume fell by 3,261 to 21,431 lots. Data showed total open interest gained 289 to 197,012 contracts in the previous session. Certificated cotton stocks deliverable as of Dec. 5 totaled 57,469 480-lb bales, down from 83,666 in the previous session.